Simple and easy to understand and use
Qufora IrriSedo Cone is an irrigation system with easy handling and a rectal cone. Qufora IrriSedo Cone is suitable for people who can sit stably on the toilet, can hold the cone in the rectum during irrigation and need to use a higher volume of water for the irrigation than available with Qufora IrriSedo MiniGo.
How does the Qufora IrriSedo Cone work?
Watch the video to learn how to put together and use Qufora IrriSedo Cone.
Please read the "Instructions for use" carefully before using a product.
In here, you will find information about usage, contraindication, warnings, and further instructions. 
Download Instructions for use
Learn more about Qufora IrriSedo Cone – product features, how it works and more
Introduction
Qufora IrriSedo Cone is for people who are able to sit on or over a toilet and are able to support the cone in the rectum during irrigation.
Product
A simple to use system, irrigation with Qufora IrriSedo Cone is easy to learn
The cone has a lubricated coating, which is ready to use as soon as it comes into contact with water. This ensures fast and gentle irrigation
Water can be instilled into the rectum using either the hand pump or gravity flow alone
The cones come in a discrete, hygienic pouch, which can also be utilized for disposal of the used cones

Ideal for people who:
Have good dexterity and hand control
Are free to hold the cone in place in the rectum
Are able to sit securely on the toilet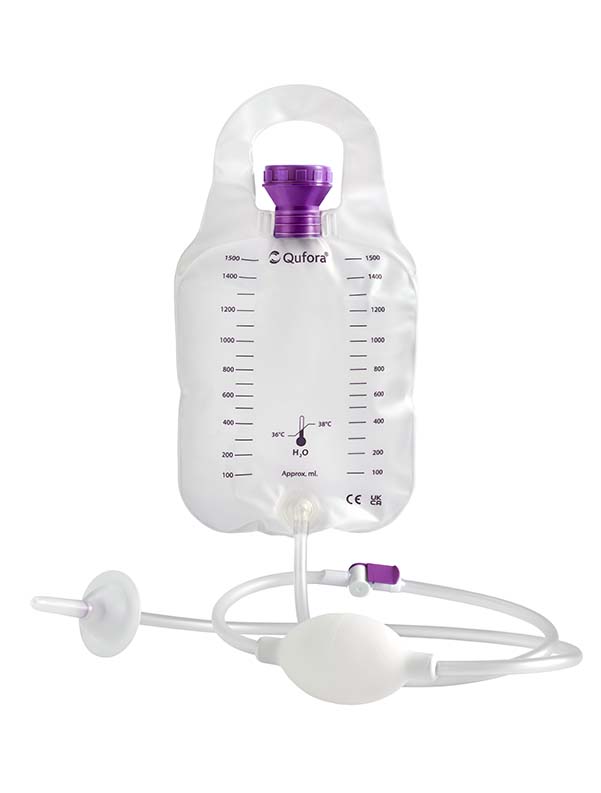 An assessment is always carried out by the healthcare professional in order to identify suitability for irrigation and the right product for the individual needs.

Qufora IrriSedo Cone includes:
1500 ml water bag, connected to a tube with a valve and a pump
Single-use cone with hydrophilic coating that is activated when dipped in water
How does the product work?
Qufora IrriSedo Cone works by flushing water from the water bag into the rectum via the cone.
Before use, always consult the 'Instructions for use' document delivered with the product.
We strongly believe that being as independent as possible has a positive impact on quality of life. The key to successful bowel irrigation is based on assessment, training and follow-up with the healthcare professional. Therefore, we want to support healthcare professionals with a product that will help achieve positive patient outcomes. 
The single-use cone is coated so that when it is dipped in water, it is ready to be used immediately  
The cone comes in a pouch for hygienic handling of the cone when attaching and detaching it, and for disposal of the used cone afterwards
The water can be inserted either by gravity or by using the manual pump 
The pump has a safety valve that prevents used water from running back in the pump
Qufora IrriSedo Cone is latex-free
People with the following bowel conditions often benefit from using Qufora IrriSedo Cone:
Low anterior resection syndrome (LARS)
Urge faecal incontinence/urgency
Constipation (slow transit/idiopathic/opioid induced/IBS-C)
Neurogenic (spinal cord injury, upper motor neuron/MS/Parkinson's/spina bifida/cauda equina)
The water bag and pump can be used for up to 1 month. Should discoloration develop within the recommended usage time, then they should be replaced
The cone is a single use item. If the single use items of the product are reused, there is a risk of unwanted effects that can influence the function of the product and the health of the patient, carers and others