Qufora IrriSedo Klick is designed for ease of use, to give a feeling of confidence during bowel irrigation. It is developed for bowel irrigation seated on or over the toilet and is suitable for people who need the support of a water-inflated balloon that holds the catheter in place during irrigation.
Learn more about Qufora IrriSedo Klick – product features, how it works and more
Introduction
Ease of use and confidence go hand in hand. That is why every detail of Qufora IrriSedo Klick is designed to be easy to put together and to use, so that you can focus on feeling in control and confident during bowel irrigation.
Product
Qufora IrriSedo Klick has a rectal catheter with a water-inflated balloon, providing a seal that holds the catheter in place inside the rectum during irrigation. This feature makes Qufora IrriSedo Klick an ideal solution for people who have difficulty holding a cone in place and prefer a hands-free hold during bowel irrigation.
Adaptable set-up. Simply choose the water delivery set-up that suits your preferences and bathroom surroundings – at home or when irrigating away from home:

The water bag can be positioned free-standing. Squeezing the pump instills water into the rectum.

The water bag can be used when hanging. The flow by gravity instils water into the rectum.  

The catheter comes in a discrete, hygienic pouch, which can also be utilized for disposal of the used catheter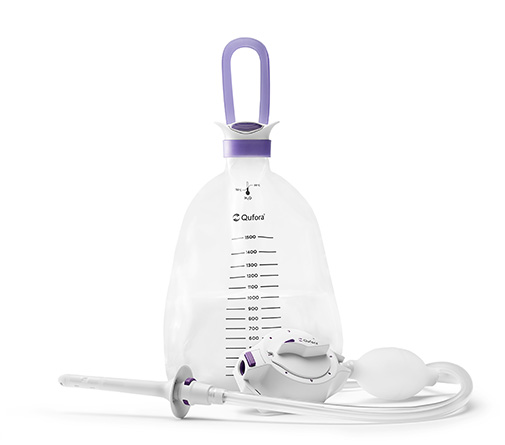 The control unit guides you around the irrigation procedure in 4 steps. There is a pause option at every step, to allow you to pause the flow of water and continue when you are ready and at the pace that is comfortable for you.
The single-use catheter comes in a pouch for hygienic handling and easy disposal

Ideal for people who:
Have weakened sphincters 
Need independent or supported bowel management while seated
Have limited dexterity or hand control
An assessment is always carried out by the healthcare professional in order to identify suitability for irrigation and the right product for the individual needs.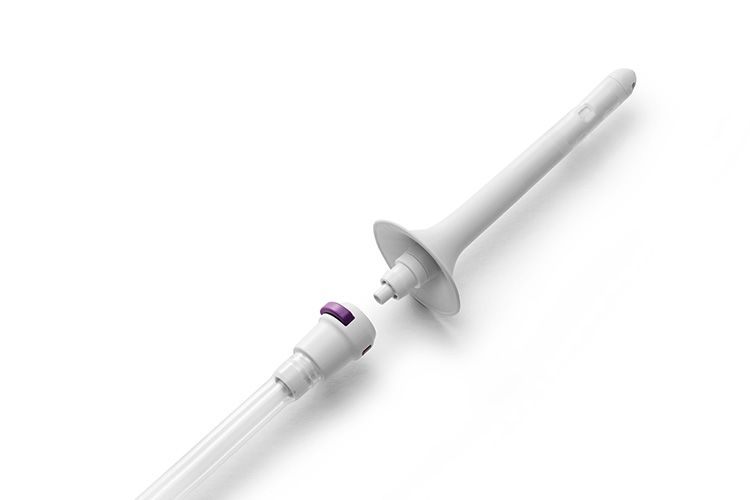 Qufora IrriSedo Klick includes:
1500 ml water bag, connected to a tube with a valve
Control unit with pump and fixation straps
Click-tube
Single-use catheters with a hydrophilic coating and a water-inflated balloon
How does the product work?
Qufora IrriSedo Klick works by flushing water from the water bag into the rectum via the rectal catheter. The irrigation process is intuitively guided by the control unit.
Before use, always consult the 'Instructions for use' document delivered with the product.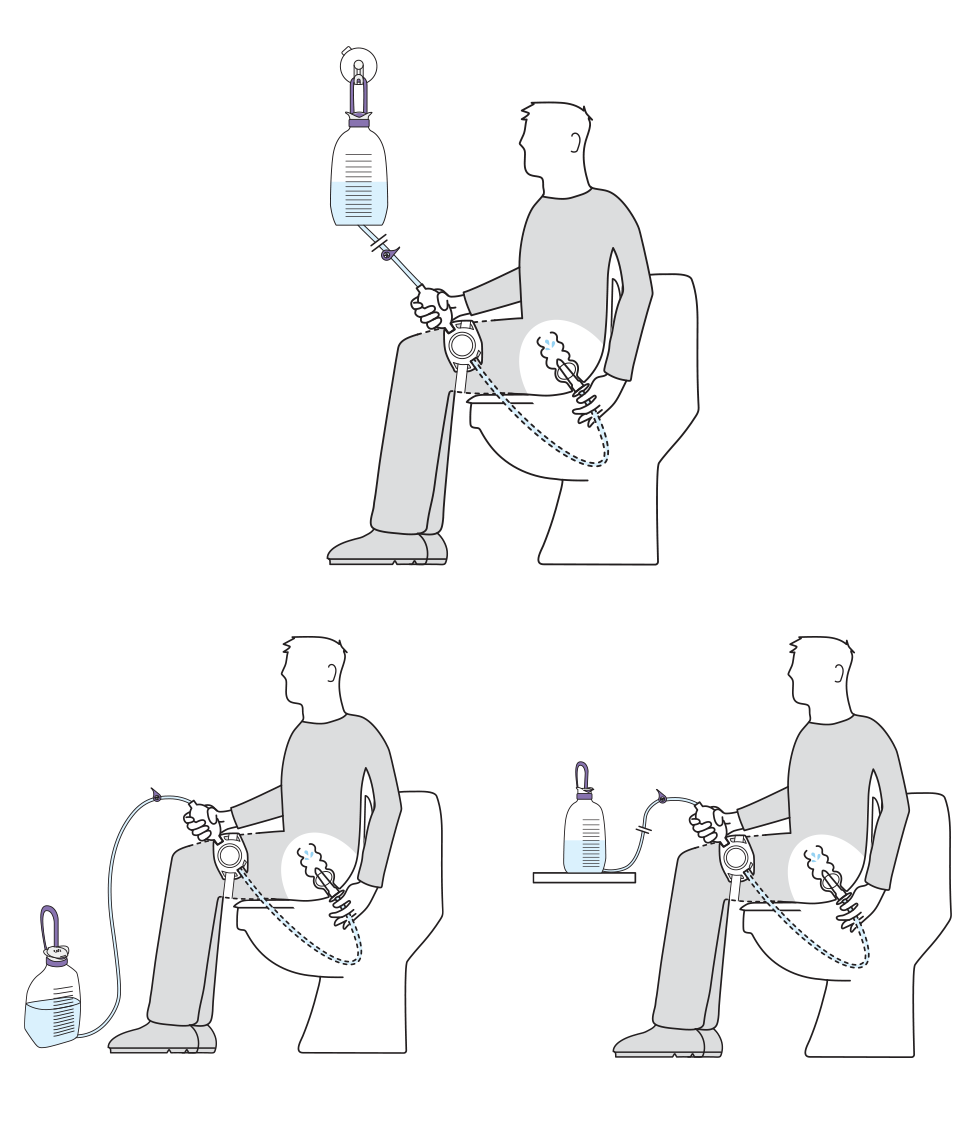 We strongly believe that being as independent as possible has a positive impact on quality of life. The key to successful bowel irrigation is based on assessment, training and follow-up with the healthcare professional. Therefore, we want to support healthcare professionals with a product that will help achieve positive patient outcomes. 
Practical preparation
Water bag with wide neck makes filling with water quick and easy
The soft-grip handle allows for convenient carrying of the water bag, and if desired, hanging it up
With a built-in flip lid, opening and closing the lid is easy
Easy assembly
Quick to put the system together
Easy click-on and click-off connections with an audible click for reassurance of correct assembly
Purple indicates where to assemble
Easy to use
Control unit intuitively guides you through the irrigation procedure in 4 steps, with the option to pause at any time
The pump is compact, lightweight and fits naturally into the hand, making it easy to squeeze
If necessary for extra comfort or security, the fixation strap can be used to secure the control unit to either the thigh or a wheelchair. The strap can easily be removed from the control unit if it is not needed.
Smooth feel
The soft and flexible catheter is ready-lubricated, just dip it in water
A wide base on the catheter provides for controlled and comfortable insertion and removal
The balloon inflates with water, and its soft, round and adaptable form when inside the rectum secures an optimal seal during the instillation of water into the bowel
Reducing resources
We have replaced plastic bags with paper sleeves, resulting in a reduction of plastic packaging compared to our previous product
The compact pump uses 17% less material than our comparable pump – minimising resources as well as feeling lighter in the hand
People with the following bowel conditions often benefit from irrigating with a high volume of water, for example, using Qufora IrriSedo Klick:
Urge faecal incontinence / bowel urgency
Constipation: slow transit constipation / chronic idiopathic constipation / opioid induced constipation / Irritable Bowel Syndrome with constipation (IBS-C)
Neurogenic bowel disorder: spinal cord injury, upper motor neurone / Multiple Sclerosis (MS) / Parkinson's disease / Spina bifida / Cauda equina
The water bag and the click tube can be used up to 1 month (15 times for irrigation every second day and 30 times for irrigation every day)
The pump and control unit can be used 90 times. Should discoloration develop on any part of the system within the recommended usage time, the part should be replaced
The balloon catheters are single use items. If the single use items of the product are reused, there is a risk of unwanted effects that can influence the function of the product and the health of the patient, carers and others
Please read the "Instructions for use" carefully before using a product. In here, you will find information about usage, contraindication, warnings, and further instructions.