Discover Qufora IrriSedo Flow, a new bowel irrigation system with an innovative way of managing water flow, that is simply intuitive to use and designed to be individual to suit different situations.
Three ways to manage water flow with Qufora IrriSedo Flow
Practical choices
The water bag can be placed free-standing on any convenient surface or hanging by the handle, giving the choice of irrigation by squeezing the pump or letting gravity to do the work.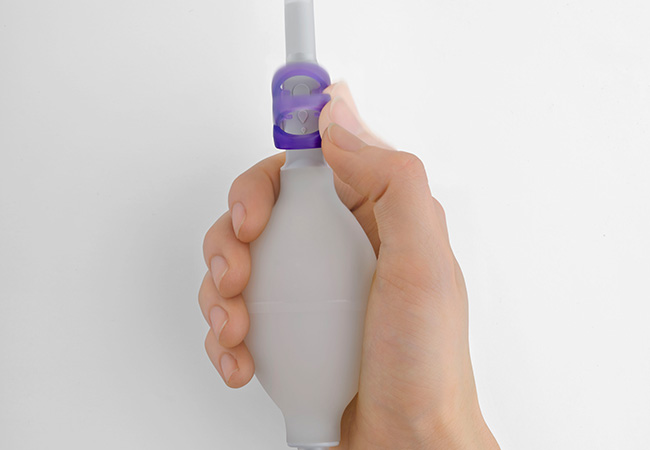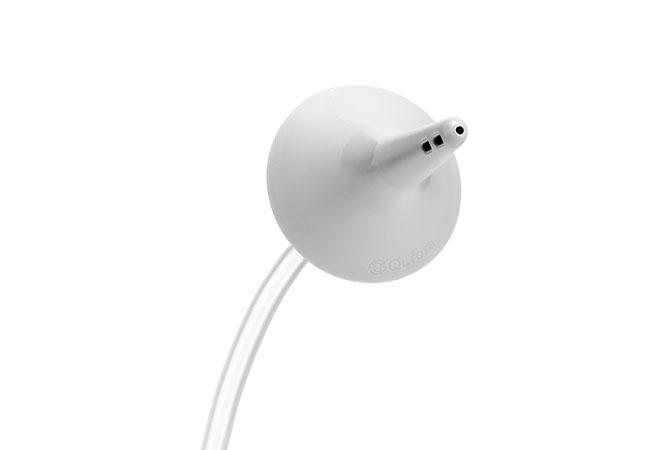 Personalised water flow
When using gravity, the water flow regulator can be used to adjust the flow of water so it feels right according to an individual feeling of comfort and confidence.
Effective water flow
Effective water flow like a shower through the flow cone with five water outlets for a multi-directional water flow.
Simply intuitive design for ease and efficiency
One quick connection
Easy set-up with just one quick connection, feel the flow cone and tube come together to know they are safely connected.
Control of water flow in one hand
Light-weight and compact pump and water flow regulator right next to each other for one-handed efficiency in sending water to the rectum.
Practical water bag
Wide neck makes it easy to hold and fill directly under the tap. Simply flip the lid to open and close. Convenient handle for carrying it around and robust for when hanging it up.
Where comfort meets efficiency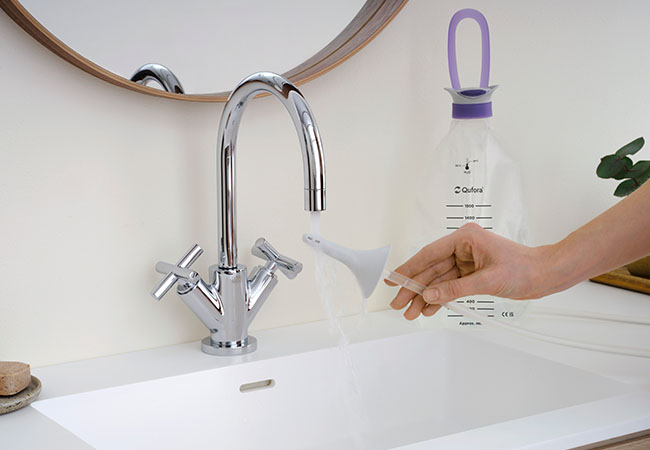 Smooth
Single-use cone is already lubricated making it smooth and ready to use once it's dipped in water.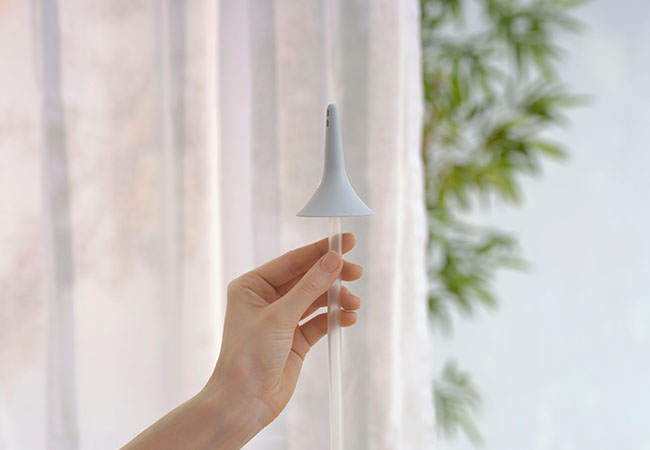 Comfortable
Soft, round, flexible tip for a smooth and comfortable insertion and removal. A firm base for a comfortable cone holding position. And the water tube connects right into the cone to help stabilize the cone in the hand.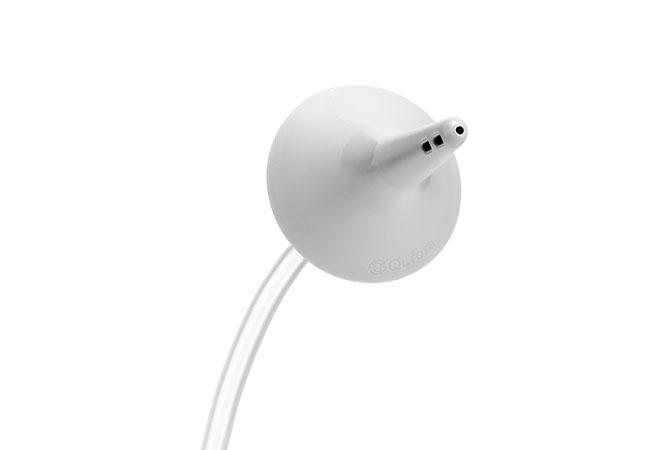 Effective water flow
The flow cone has five outlets that are shaped upwards for a multi-directional water flow.
Storage
The removable water bag tray inside the box is water-repellant and can be used for storage inside a cupboard or drawer.
Easy and hygienic handling
The pouch that the flow cone comes in allows for hygienic handling of the cone when preparing for irrigation and is a handy disposal bag for it afterwards.
Watch the Qufora IrriSedo Flow video
Watch the video to discover more about Qufora IrriSedo Flow
Designing for people
When we design bowel irrigation products, we design for people and not only a function. Like all other devices and objects that we surround ourselves with on a day-to-day basis, they do not only solve a certain functional purpose, they are also part of the life of the people who use them. This is why design matters, also with a medical device. Qufora IrriSedo Flow is a bowel irrigation product to relieve the symptoms of bowel dysfunction, and it is also about life beyond the bathroom.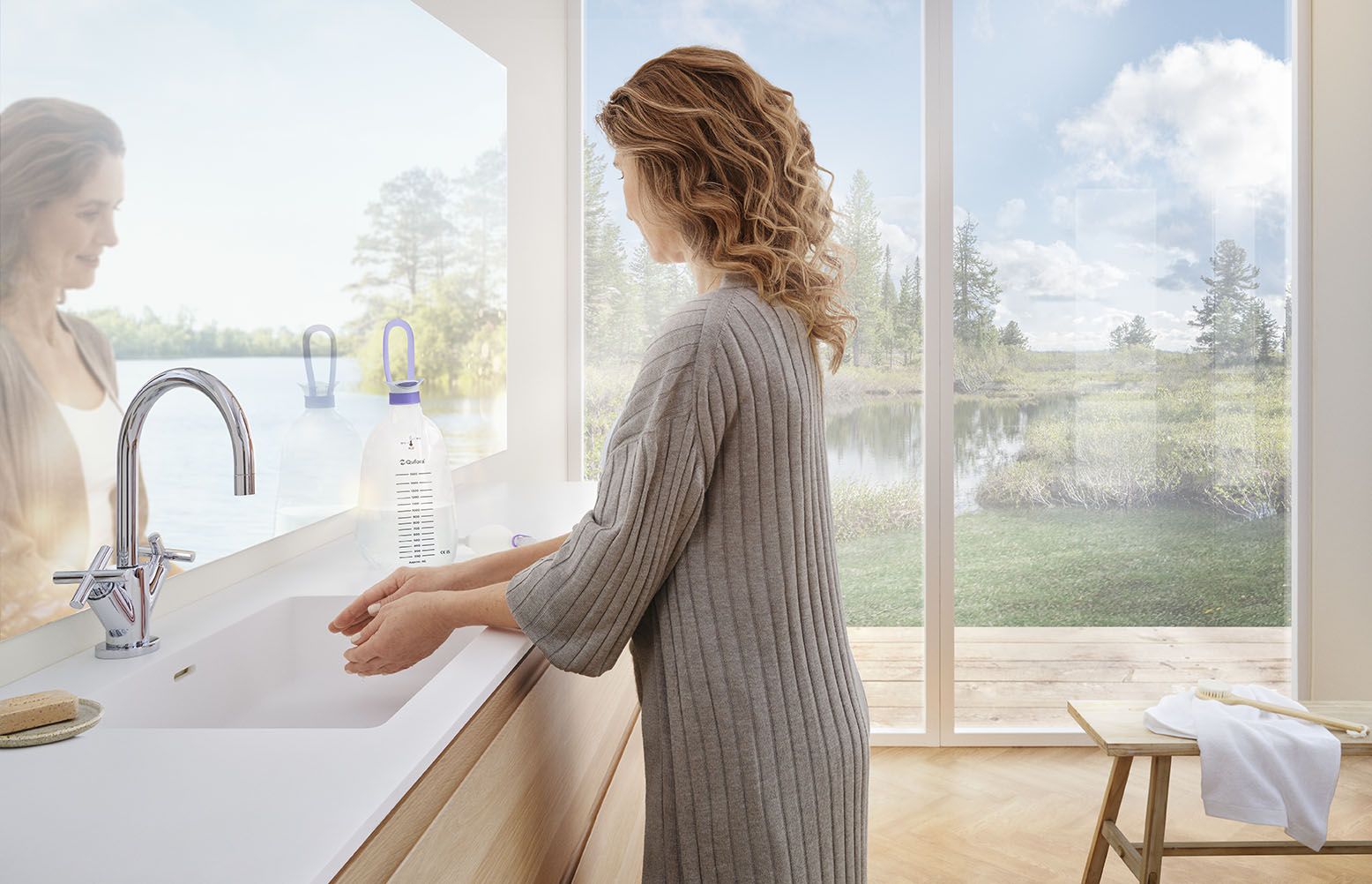 Qufora IrriSedo Flow continues Qufora's award-winning bowel irrigation product design, as the winner of the Red Dot Award: Product Design 2022. The award recognizes the best new products each year that are judged outstanding by an international jury because of their excellent and innovative design, featuring high design quality in both how the product looks and how the product is to use.
The Red Dot jury were very impressed, "Qufora IrriSedo Flow has a convincing user-friendly design, which enables reliable and straight-forward use in various contexts"
Learn more about the Red Dot Award. 
Design that matters for the environment
Reducing resources
The flow cone is made with 10% less material than our comparable cone product 
Reduction in plastic in the packaging over our comparable cone product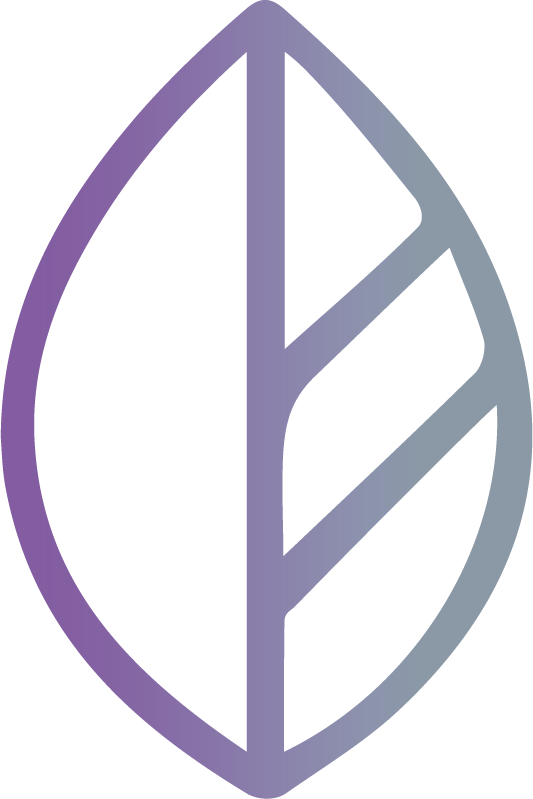 See where the possibilities can take you
Qufora IrriSedo Flow is designed to give a feeling of confidence whether irrigating at home or out and about. With a fuss-free preparation and easy to pack away, see where the possibilities can take you.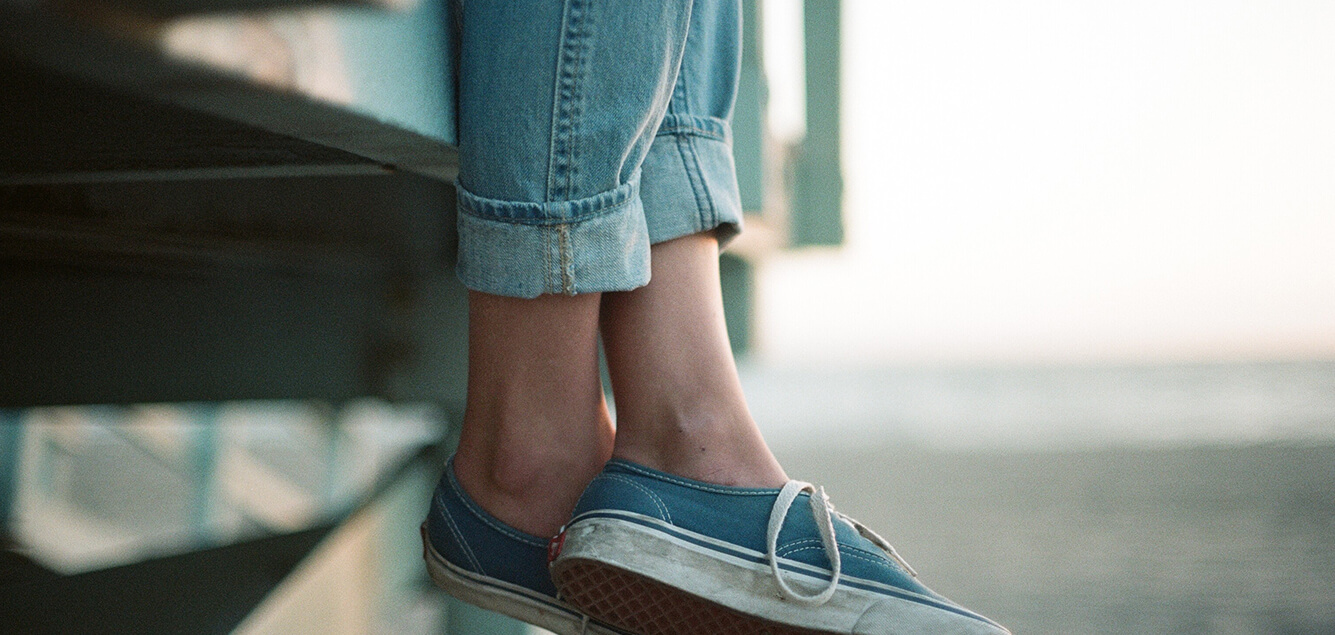 Bowel irrigation – sometimes called transanal irrigation (TAI) or rectal irrigation (RI) has been practiced for many hundreds of years.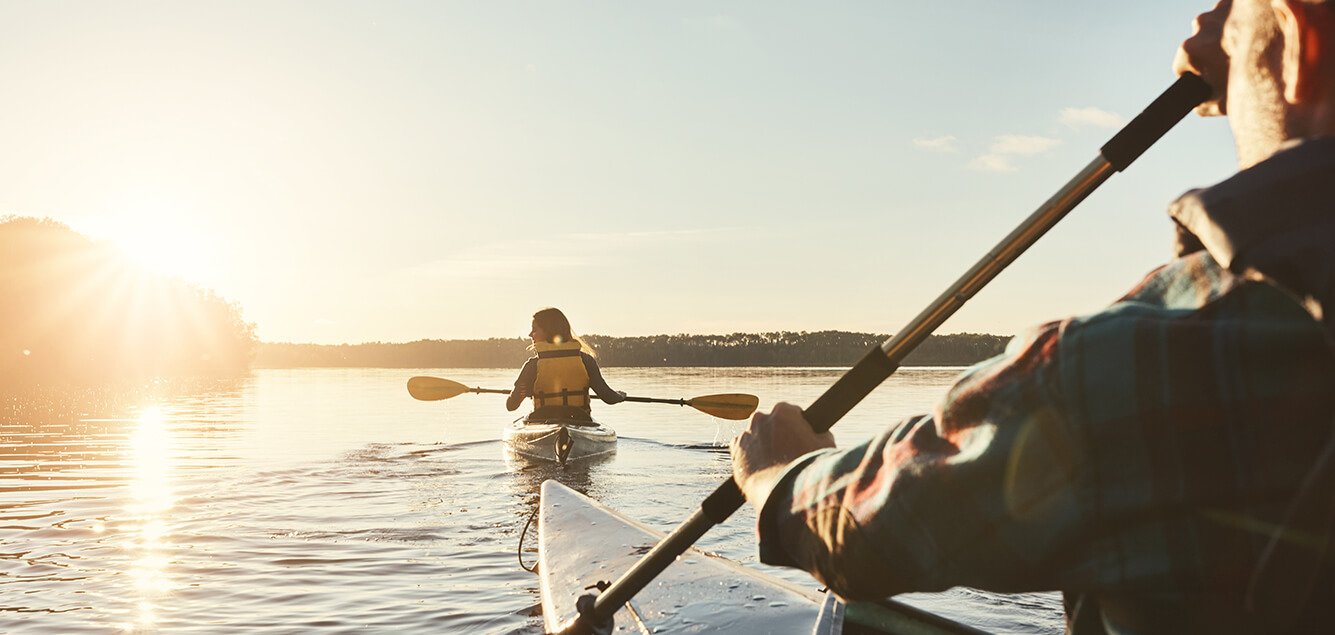 Bowel disorders take a big emotional toll on those struggling to maintain their confidence, dignity and desire to lead fulfilling lives.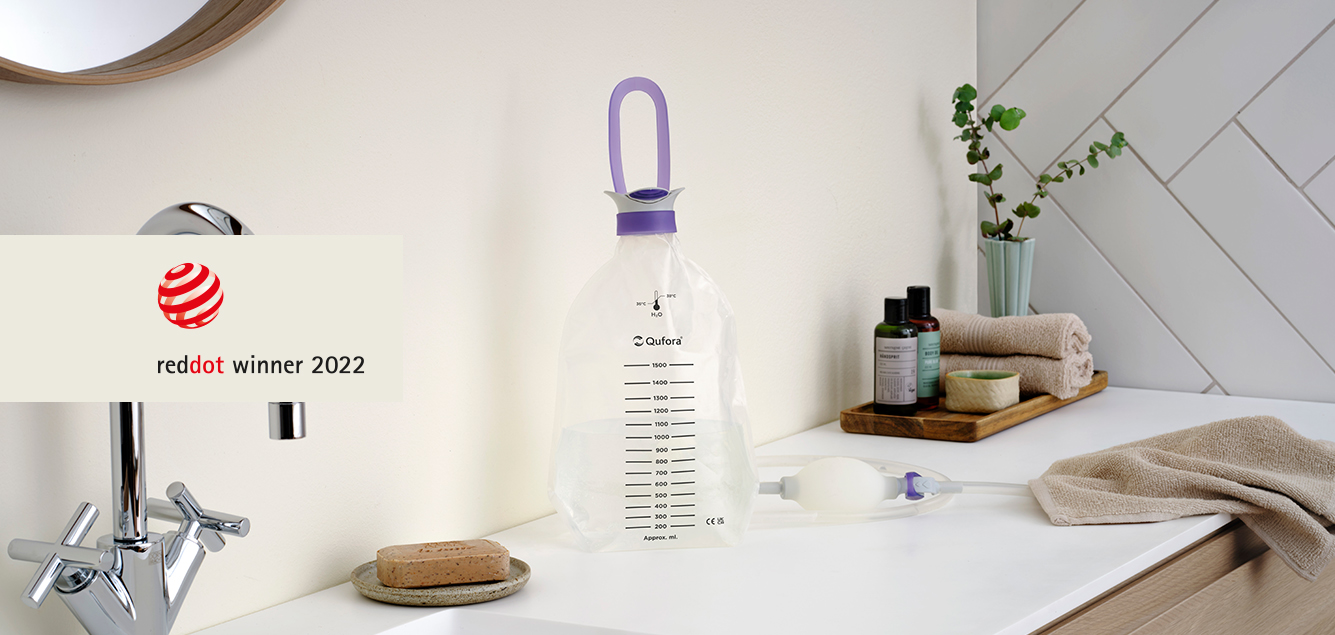 Qufora IrriSedo Flow is our newest bowel irrigation system with simple and easy handling and a cone.